Gardening with the Littles
8/8/2018
One of my favorite hobbies is gardening. I love exploring seed catalogs, planting my treasures and nurturing them into strong, garden ready plants. This is a fine past time, but there is just something a little extra special about getting to see the eyes of young children blossom at their first glimpse of seeds sprouting or that beautiful sunflower growing high in the sky. Nature itself is amazing, and being part of the process and observing what beautiful things come from such tiny beginnings is a wonderful thing to share!
It's easy to make gardening with young children fun and easy! Kids of all ages love getting their hands in the dirt! Make sure you have all your materials ready to start. Kids love to plant, but can become anxious if having to wait too long for grown-ups to get things ready.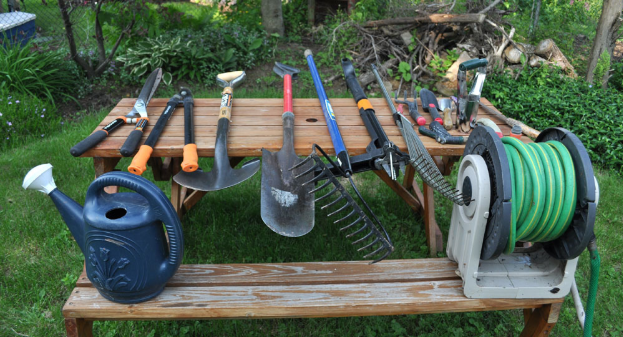 Some things you may want to have ready:
➽Seeds or Plants (easily found at Lowes, Walmart, Marvins and local nurseries. Most spring flowers and plants will have easy to follow directions according to sunlight and water requirements right on their containers, if not, ask the salesperson)
➽Soil (make sure to match your soil type with your plant/seed needs)
➽Water source (hose or watering can)
➽Ground prepped or containers on hand (have your ground soil loosened and weed free prior to planting or have pots ready with drain holes - all plants have to be able to drain their water or they could die easily.)
➽Trowels, spades, shovels (your choice! Whatever you like to dig with is fine)
➽Garden gloves (optional, but can help keep hands clean and safe from ants or bacteria)
Now that you have your supplies and place to plant chosen, call all the kids and DIG IN literally! A good rule of thumb for the correct size to dig your plant's hole is to dig a hole twice the size of your container. When taking the plants out of their temporary containers, push them up from the bottom. If you pull them out by the top of the plant, they can easily break. Gently loosen up the bottom with your fingers if the roots look all wrapped around and around. Now place them in their new hole, making sure all the soil around the plant is completely in the hole - none sticking up above, if so then you'll need the hole dug deep enough to cover it all. Next, gently push/pull extra soil up around the base and tamp gently - not too much pressure. Water towards the base of your plants, and water every few days unless there is rain or they are indoor plants - always refer to plant specific watering instructions on the original container or whoever you buy them from to ensure you are watering the correct amount. And last, but not least, ENJOY!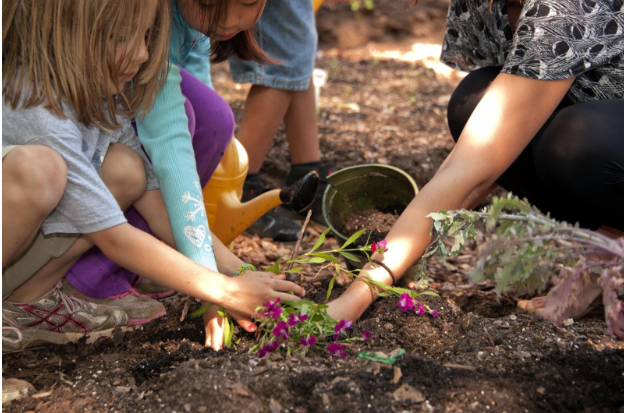 Links to gardening activities:
https://kidsgardening.org/
https://littlesproutslearning.co/garden-activities-kids/
https://www.theottoolbox.com/2015/05/sensory-gardening-with-kids.html
https://www.fantasticfunandlearning.com